Filter Blog Posts By:
all posts (default)
general
bash scripting
mac
plain text
reading
travel
windows
www
Info:
©Jim Brown

Weblog (or Blog)
---
Sunday, January 13, 2019
After attending the college football National Championship game in Tampa two years ago, I did not plan to attend this year's game. But once Clemson made the game again, Debbie and I decided to go. After all, how many more of these will the Tigers play in during my lifetime? So we flew to San Jose on Saturday, January 5.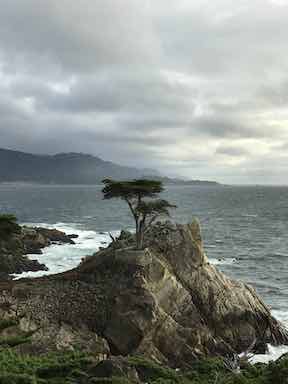 We stayed in Mountain View and scouted the area on Sunday and Monday and went to the game Monday night at Levi's Stadium in Santa Clara, home of the 49ers. Tigers demolished Alabama 44-16. National Champs again, twice in past three years. Amazing.
Tuesday we drove over the Santa Cruz Mountains, then down California Highway 1, the Pacific Coastal highway, to Pebble Beach. This picture, my favorite from the trip, is of the Lone Cypress that is emblematic of Pebble Beach. Beautiful scenery along this drive. See the Twitter account for more photos. We relocated to American Canyon, just south of Napa, for the rest of the week's stay.
Wednesday and Friday were wine days. We took a guided tour of Napa Valley on Wednesday. Had a good guide, therefore a good tour, and bought some expensive (by our standards) wines that we had shipped to Aiken. Thursday was supposed to be a guided tour of San Francisco, but we did not feel well and skipped it, opting to ride around and see more of Napa Valley on our own. Friday was a self-guided tour through Sonoma Valley. Beautiful vineyards everywhere.
Saturday we drove to San Francisco and saw Fisherman's Wharf, Lombard Drive, and the hilly streets. We stayed in San Jose so that we could more easily make our flight Sunday morning. What a great week!
posted at: 22:11 | path: /travel | permanent link