Filter Blog Posts By:
all posts (default)
general
bash scripting
mac
plain text
reading
travel
windows
www
Info:
©Jim Brown

Weblog (or Blog)
---
Saturday, January 26, 2019
Today started a six-day stay at Disney World with two of our grandchildren (and their parents :-)). Allison made all the arrangements. We stayed at the Art of Animation Resort and used mostly bus transportation from the hotel to the parks. Pleasant to leave the driving to someone else. This was my first trip in 25 years so I was looking forward to the changes.
Today was Magic Kingdom. The constant rain did not keep us from following Allison's plan. Not a lot of changes in the rides we did today except for updating. Space Mountain is still my favorite and turned out to be one of Claire's.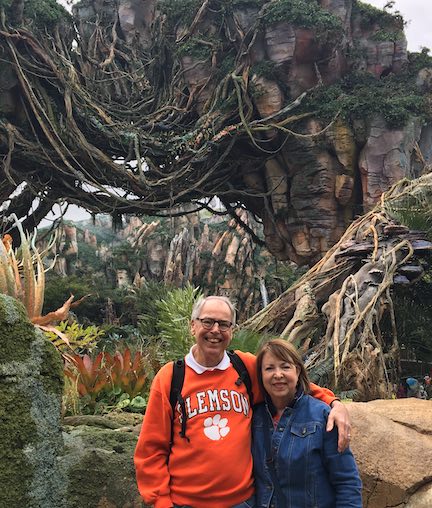 Next day the rain stopped and we were at Animal Kingdom. Lots of changes here in 25 years. Pandora - The World of Avatar is, of course, completely new. The new ride Avatar Flight of Passage had a two-hour wait today, so Greg, Alex, and I came early on Thursday to ride it. It is now my all-time favorite ride at Disney. Alex liked it too.
Tuesday was Hollywood Studios. Lots of Star Wars and Toy Story stuff here. The Tower of Terrors was my favorite here although Slinky Dog Dash roller coaster was a close second.
Wednesday we were at Epcot. Lots of new here, too. Twenty-five years ago, it was mostly "educational" exhibits. Now there are lots of rides. Soarin' was my favorite although Test Track was a close second.
Thursday we re-visited Animal Kingdom while the girls went shopping. Debbie and I had dinner in Monsieur Paul in Epcot. Very upscale and very French.
Friday we hit both Magic Kingdom and Hollywood Studios to catch some of rides we had not had time for earlier in the week.
One of the big changes at Disney World since my last visit is with fireworks and parades. As best I remember, there was one big fireworks show, one laser light show, and one big parade 25 years ago. Now there are parades and fireworks in every park. The fireworks are now in the context of a monstrous-sized film projected on the sides of buildings and a laser light show coordinated to the film and the fireworks.
Hated to go home, but it was a great week!! According to Debbie's Fitbit, we walked 51 miles. Enjoyed every step of it.
posted at: 21:45 | path: /travel | permanent link